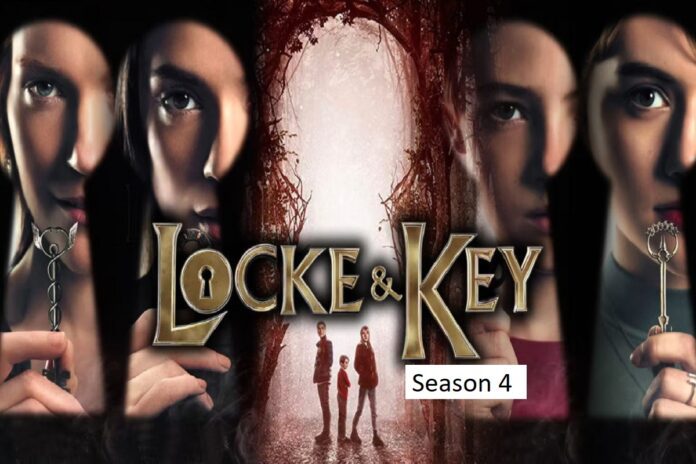 Locke and Key season 4 one of Netflix's most popular fantasy horror programs, recently completed its third season. Based on Joe Hill and Gabriel Rodrguez's IDW comic book series of the same name, the series originally launched on Netflix in February 2020 and has filled the Stranger Things-shaped hole in fans' life, showing the first two seasons between the show's three-year gap. Now that it's back for Locke and Key season 3, one of the top questions among fans is, "Will there be a Locke and Key Season 4?"
Darby Stanchfield, Emilia Jones, Connor Jessup, and Jackson Robert Scott star as the Locke family, who uncover a lot of enigmatic keys throughout the Keyhouse, the house they move into. These keys can be used to unlock numerous mystical doors, and they quickly become aware of a demonic being that is also looking for the keys for its own nefarious intentions.
If you're wondering if there will be a Locke and Key season 4, read on to find out what we know.
Will There Be Locke and Key Season 4?
Unfortunately, this appears to be the last journey we could have done with the Lockes. Netflix confirmed the show's final season while releasing the first look for Locke and Key season 3. However, given how quickly series like Stranger Things and Elite are being released, the termination of Locke and Key season 4 is suspect in its own right.
It also implies that the full source material will not be adapted completely, as the Hill and Rodriguez comic book story spans multiple issues over a five-year period. As bad as it is that there will be no Locke and Key Season 4, we can always rely on the previous seasons to provide amazing keys for us to cherish at any moment.
Why Isn't Netflix Releasing Locke and Key Season 4?
Locke and Key season 3 depicts the destruction of the new keys from Locke and Key season 2, effectively bringing the saga to a close. It's a gratifying finale since the Lockes have learned yet again how dangerous these keys could be in the wrong hands, and destroying them is the only way to keep reality secure from demonic invasion. In reality, this was a plot that could only continue so long; much of Locke & Key's allure comes from its young ensemble, and the players are getting older. It's almost a given that every comic — and every comic book adaptation — must adhere to a basic theme. The clock was always ticking in the case of Locke & Key since the innocence of youth is part of that essential premise.
Netflix frequently cancels series after three seasons, most likely because the shows fail to meet one of the streaming giant's main metrics: acquiring new customers. While it's unlikely that Locke and Key season 3 attracted any new subscribers, viewership was definitely high enough for Netflix to agree to renew the show for one more season, allowing the tale to conclude. Unless they smash hits like Stranger Things and The Crown, few Netflix Originals last more than three seasons. Locke & Key is one of Netflix's greatest, but it doesn't appeal to a large enough audience to compete with the uncommon titles.
Locke and Key Season 4 Quick Info
| | |
| --- | --- |
| Season:  | Locke & Key |
| No. of Seasons: | 3 |
| No Of Episode: | 28 (seasons 1-3) |
| Status: | Pending |
| Script Writer:  | Meredith Averill |
| Director: | Mark Tonderai |
| Genre:  | Fantasy, drama, Supernatural horror |
| Production:  | IDW Entertainment |
| Producer: | Kevin Lafferty |
| Music: | Torin Borrowdale |
| Cast: | Darby Stanchfield, Connor Jessup, Emilia Jones |
| Country of Origin: | United States |
| Origin Language:  | English |
| Available Languages:  | English, Hindi |
| Next Season Release Date: | Not Yet Confirmed |
| Available On: | Netflix |
Locke and Key Season 4 Release Date
Locke and Key season 4 has yet to be formally renewed by Netflix. There is no set release date for the new season as of November 2022. This does not imply that the show has been canceled. The show may be on hiatus, and the following season has yet to be confirmed or scheduled. More information will be added to this post as it becomes available. If you want to be notified when Season 4 begins, sign up for updates below and join the discussion in our forums.
What Did the Producers of This Locke & Key Show Say?
However, according to the creators of the show. They decided to cancel Locke & Key after season three. There will be no more seasons, according to him. When the Netflix show's discontinuation was announced, co-showrunners Carlton Cuse. Meredith Avril also issued a statement, saying, "Once we started working on the series, we believed that three seasons was the appropriate amount to bring the Locke family's tale to life." And their key home adventures come to a satisfying end.
"As storytellers, we are thrilled to have the opportunity to give our interpretation of Joe Hill's fantastic story." And Gabriel Rodriguez as we see fit.
But, as Meredith Avril pointed out, we're keeping the magic keys for ourselves. Despite the fact that they may choose to adapt to various other comic book series, they maintain this attitude. During its initial five-year, 37-issue run. Six unique "series arcs" were included in the Joe Hill/Gabriel Rodriguez comic. However, it appears that those stories will always be available on the page. In reality, the cast has long since left the show, with season three wrapping up in the fall of 2021.
Read More: F2 Movies
The Plot of Locke and Key Season 4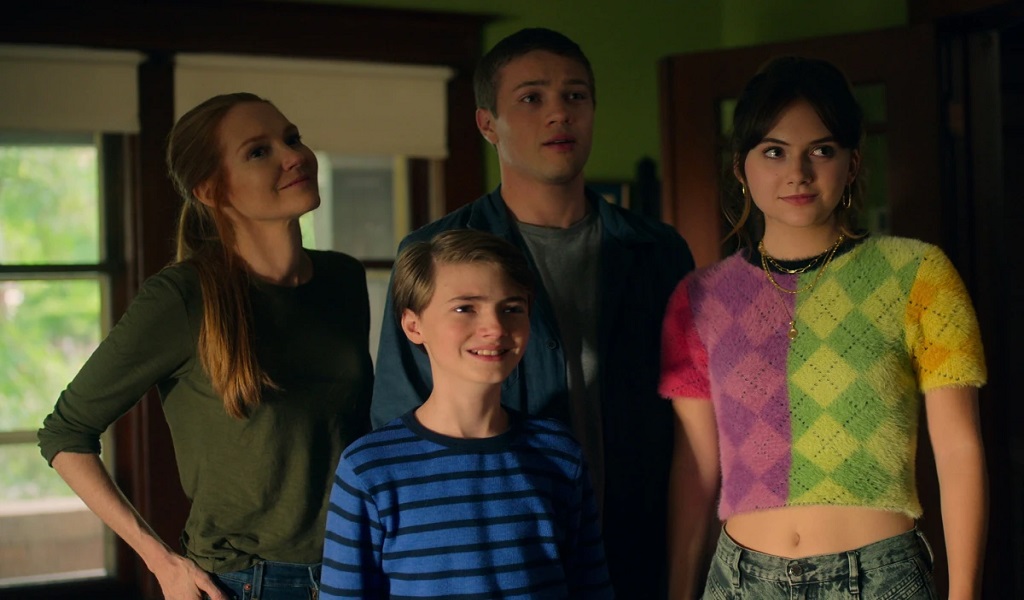 Meredith Averill and Aron Eli Coleite created the American fantasy and drama television series Locke and Key. The show is based on the same-named novel. Locke and Key premiered on Netflix on February 7, 2020, and has since run for Locke and Key season 3. The first season of the show was a worldwide success with a large fan base. This prompted Netflix and the show's creators to bring the show's second and third seasons as well.
Locke and Key have a unique fantasy plot that has helped them to attract a large number of viewers and keep them hooked with each episode of the show. The show begins with the Locke family moving from Seattle to Matheson, Massachusetts. Because Rendell Locke was murdered by a former student, his widow and three children relocated to Matheson. One of the children quickly discovers a mysterious key that allows him to open numerous mystical portals and bestows unique powers on the person. The lady who desires to steal the keys for reckless and bad motives soon appears.
Who Could Star in Locke and Key Season 4?
If the show had been renewed for Locke and Key season 4, the majority of the main cast could have returned at the appropriate time to bring the show to a close (with a fourth season, I mean). I'm referring to a made-up season of a show that has already been canceled, which is odd. But first, consider who could have appeared in Locke and Key season 4.
That is a difficult question to answer. I believe that all of the Locke kids would have returned for Locke and Key season 4. I believe their mother would have returned for a fourth season as well. Darby Stanchfield, Connor Jessup, Emilia Jones, and Jackson Robert Scott might all have appeared in Locke And Key Season 4 of the Netflix drama.
We'll keep you updated on Locke And Key Season 4 news as it becomes available. They might bring it back if enough people desire it and someone initiates a Change.org petition to "renew Locke and Key."
Is "Locke and Key" Ending With Season 3?
That's correct, Locke and Key season 3 is the final installment of the famous Netflix series. The most recent batch of episodes, which is shorter than the previous two seasons, concludes the story of the Locke family and Keyhouse. Of course, it raises the stakes first, pitting the Lockes against an all-new antagonist — and reintroducing Dodge (Layla De Oliveira) for good measure.
Locke and Key season 3 would finish in April, according to Deadline. And, with shows like Stranger Things and The Umbrella Academy continuing for longer, fans may be unhappy that Locke and Key season 4 will not be available. Even as we bid farewell to the series, there is one bright spot: it looks to have concluded just where the showrunners meant it to.
Read Also: Hura Watch
Where are Locke and Key Season 3 Filmed?
Locke and Key take place in the fictional town of Matheson in the very real state of Massachusetts, yet the show is shot in Canada.
The town itself is a little port town called Lunenburg in Nova Scotia, although most of the scenes set outside the town were shot in Toronto, Ontario, Canada.
The Keyhouse, on the other hand, is almost all CGI and is based on a front facade built in the Canadian countryside.
Is Locke and Key Season 4 Worth Watching?
Although the Locke and Key season 3 reviews are still coming in, the series is generally well-received. It is fair to state that Locke and Key is not the best comic book adaptation out today, especially when compared to the latest The Sandman, but it is still a show worth seeing. The first season had a 66% rating on Rotten Tomatoes, but Locke and Key season 2 gets superior ratings, as evidenced by its 83% average score.
Reviews for Locke and Key Season 3 have been mixed; although some critics have expressed dissatisfaction with the show's conclusion, others have stated that it was appropriate. We recommend that you give it a shot and start with Season 1 to see if you enjoy the world that Locke and Key have created.
Locke and Key season 3 Rating & Reviews
Rating
Locke & Key has an IMDb rating of 7.4/10 and a Rotten Tomatoes rating of 74%, with an average audience score of 66% based on the show rating. You may foresee that the series is worth seeing.
Reviews
This is a strange series. Although the theory and arrangement are intriguing, the work itself is inconsistent. The plot is simple and appears to be aimed at children, but there are far too many kills for it to be considered a children's story. It's far too ridiculous and boring for an adult audience. It also spends far too much time describing the children's relationships while being far too innocent for adolescents.
As a result, I have no idea who the intended audience is. It's beautifully shot and shows promise, but the plot is disjointed, explains nothing, reveals nothing, and is dull and baffling. Overall, I am dissatisfied. So much progress is possible!
Locke and Key Season 3 Age Rating
The series' official age rating is set at TV-14. This is the television equivalent of a PG-13 film, which implies it is appropriate for teenagers. It makes sense given that the series has always focused on teenagers—and it's nothing like Euphoria!
Other countries have varying age ratings, but the majority of them are similar to the US. Germany has rated it as a 12, Canada has rated it as PG, and the United Kingdom has rated it as a 15.
Violence and gore are the primary reasons for the TV-14 rating. There are fight sequences, and we may expect more in the third and final seasons. There isn't much in the way of graphic nudity or swearing, though. Except for the demons and magic surrounding the keys, this series is mostly about teens being teenagers.
Locke and Key Season 4 Parental Guide
Based on the Age Rating, parents are in the best position to assess whether or not their child is old enough to watch a film, television program, book, video game, or television series. It is also inappropriate for children if there is blood and gore, sexual content, mature themes, or explicit language.
Look at the appropriateness rating mentioned above to see if Locke and Key are appropriate for your children. If you have already seen this series, we would appreciate it if you could provide information on parental advice. With your help, we can give a more precise image to everyone.
Also Read More: The Flash Season 9
Conclusion
We believe in providing our visitors with the most trustworthy stuff, thus all of the information about Locke and Key season 4 has been updated on this page. We hope you find all of the information you were looking for.
Netflix will soon reveal the release dates for all upcoming Locke and Key season 4 episodes. We will write about all future developments, so remain tuned to our website to learn everything there is to know about your favorite show, Locke and Key.
Frequently Asked Questions (FAQs) about Locke and Key Season 4
When Could Locke and Key season 4 Be Released?
As a result, there is no set date for Locke and Key Season 4 because it will not take place. I could conclude the article here and call it a day. But I want it to be clear that I believe Netflix should have renewed the show for another season.
Will there be Locke and Key season 4?
There will be no Locke and Key season 4 because when it was taken up for the third season, it was announced that season 3 would be the series' final season.
How many seasons Locke and Key will have?
Locke and Key season 3 was announced to be the final season in April 2022. There are three seasons in all.
How and where to watch Locke and Key season 3?
Locke & Key is a Netflix original, hence it is only available on the Netflix streaming platform. From August 10th, 2022, the complete season will be available.
Are Locke And Key A True Story?
The Netflix show Locke and Key is based on a series of comic novels. Joe Hill wrote the comics, which were published between 2008 and 2013, while Gabriel Rodriguez drew them. The characters and plots are the same as in the comics, however, some elements have been altered for the television show.
Why Is Locke and Key For Adults Only?
Parents should be aware that Locke & Key is based on a horror-themed comic book series of the same name. Every episode contains violent scenes.
How many seasons will Locke and Key have?
Locke and Key season 4 will be the final season.
What age group are Locke and Key for?
The series' official age rating is set at TV-14. This is the television equivalent of a PG-13 film, which implies it is appropriate for teenagers.
Do Locke and Key have romance?
The Locke family saga concludes with the last eight-episode season. We've seen lots of romantic moments in the show's 28 episodes, some of which ended horribly and others that created captivating and swoon-worthy memories.
How old is Bode in Locke and Key?
Bode Locke is the six-year-old son of Rendell and Nina Locke, Tyler and Kinsey Locke's younger brother, and Duncan Locke's nephew. As explained by the home "showing" him, he is the Locke youngster who finds practically all of the Keys.